WELCOME TO DUNDRUM COLLEGE
Welcome to Dundrum College of Further Education. We are as excited about your future as you are and look forward to working with you to realise your goals, whatever they may be.
Our courses are designed to equip you with the skills and knowledge to prepare you for employment or to progress to further study. Our College is staffed by professional teachers who work with you to achieve your potential. We see the learner/teacher relationship as a team; your success is our success.
At the start of the academic year in September we will bring you through induction and orientation for your course. This guide will help you begin this process and is designed to make your start as easy as possible. You will need your college email address and usernames for the various services which have been emailed to your personal email account. Please keep these documents in a safe place for future reference. You will also find a list of important dates for the academic year in this guide.
We can assure you that your future is safe with us. We hope you enjoy a successful year ahead as we work together to achieve your goals.
MISSION STATEMENT
Dundrum College of Further Education promotes a quality teaching, learning and assessment culture that is welcoming, respectful, enjoyable, inclusive, innovative and supportive for all.
Value statements
The mission is underpinned by these core values:
Integrity – we are committed to do the right thing
Collaboration – we value trust, respect, kindness, and building solutions together
Empowerment – we are student and staff centred, enabling, inclusive and supportive
Innovation – we are dynamic in meeting the evolving needs of students, society and enterprise in an innovative and inspirational manner
REGISTRATION
Before you access any of your classes you must register with the college online. Registration will allow you to pay your fees (if applicable), obtain your student card (if you want one) and access a wide range of services available to our students. In this section, we will explain each step of the registration process.
How do I access registration online?
You will register online using our system called eNROL that can be accessed from our website www.cfedundrum.ie. To do this you will need:
eNROL username (this is also your student number)
Password
These were sent to the e-mail address you provided when you enrolled for your course. Once you have successfully registered we will send all future classroom communications to your new DCFE email address.
Logging into the eNROL system
To login to the eNROL system:
Navigate to the eNROL
Enter your eNROL ID/Username (this is also your Student Number) and your password in the relevant fields and click Login. Your username/student number and password were sent to the e-mail address you used during the application process.
If you would like to see a video demonstration of logging onto the eNROL system please go to our website www.cfedundrum.com.
How do I pay fees?
Select the "Payments" tab at the top of the eNROL page:
This will bring you to the Payment Dashboard. Select the relevant fee and amount using the drop-down fields. Click the checkbox for "Terms and Conditions" and then click Pay Now:
Follow the on-screen instructions to enter your payment details.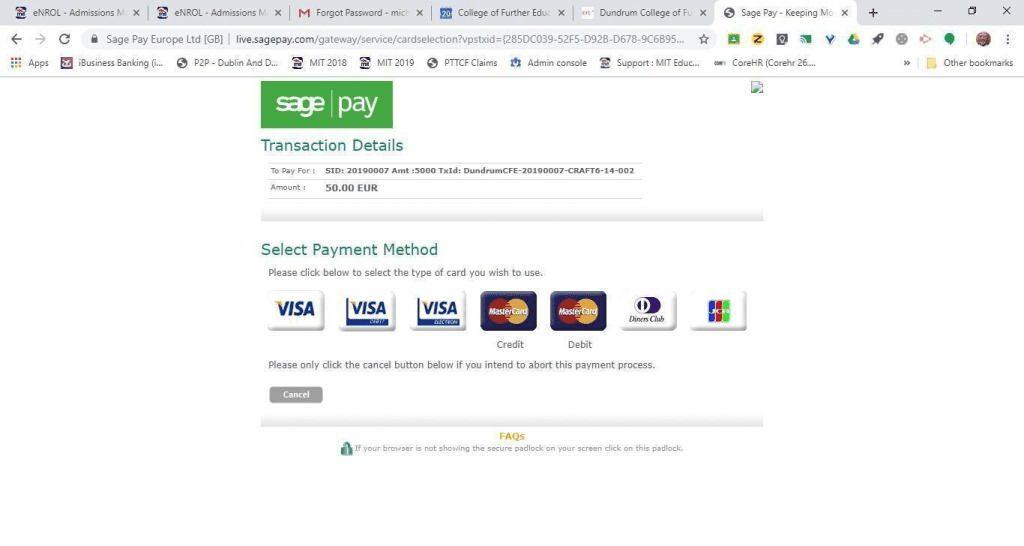 Further information on fees can be found on our website and queries can be e-mailed to info@cfedundrum.com.
Applying for an Exemption
Students who satisfy certain conditions may be entitled to have their fees fully or partially reduced (fee exemption). Please check our website for further details of eligibility Here.
If you are eligible for a fee exemption you will need to upload or email info@cfedundrum.com the relevant documentation. Please email the college for further details on the process to request exemption of fees. If uploading documentation, please also email info@cfedundrum.com to say you have done so. You can upload these documents through the eNROL system and by following the steps below.
From the eNROL home page, select the Document tab:
Click on the green circle (+) and follow on-screen instructions to upload your document(s). If uploading more than one document, please upload one file at a time.
Access and Print Registration Documents
On occasion you may need to access and print important documents such as your college registration letter or fee payments receipts etc. You can do this online through the eNROL system.
1. From the eNROL home page, select the Correspondence tab:
3. The selected letter is then downloaded for printing or forwarding:
Recover your eNrol password
If you forget or misplace your eNROL system password, you can recover it easily by following these steps:
Navigate to the eNROL page and click on "Forgot your password?" link:
Enter your email as requested, click "Submit" and check your inbox to reset your password.
Order your student card
Students do not automatically receive a student card unless they request one.  To do so please send an email to reception@cfedundrum.com with a passport style photograph, your name and class details.
NB Photographs must be passport style against a neutral (cream, white or pale grey) background, head and shoulders only, directly facing the camera with no objects visible. Black & white or colour is acceptable.
FINANCE MATTERS
VTOS (Vocational Training Opportunities Scheme)
Eligible students continue to get their full Social Welfare entitlements as well as the cost of textbooks, exam fees etc. for the duration of the course. Meals and travel allowances are also paid. Places are limited so early application is advisable. Please email reception@cfedundrum.com for further details of qualifying conditions and application form.
Back to Education Allowance (BTEA)
The BTEA allows qualified applicants to return to full-time education in approved courses in order to advance the applicant's level of education while continuing to receive some support. People in receipt of certain social welfare payments can retain these payments for the duration of the course. Please check www.gov.ie or www.studentfinance.ie for qualifying conditions.
Maintenance Grants
The Department of Further and Higher Education, Research, Innovation & Science provides 3rd level maintenance grants to eligible students attending full-time Further Education courses in the College. The grants are paid through the Student Universal Support System (SUSI) and are means tested. Please note that this payment is made subject to satisfactory attendance on your course. For further information check the website www.susi.ie or email reception@cfedundrum.com.
Part-Time BTEI Courses
Persons and their dependents are eligible for free part time courses if they are in receipt of any of the following:
a medical card;
an unemployment or related payment;
a means-tested welfare payment;
a working family payment
Please note that a BTEI Criteria Form must be completed before commencing one of these part time courses.
ORIENTATION
Orientation will take place in college in the week beginning 4th September 2023 (provisional). Each course is assigned a separate date and time for orientation so please ensure you check your email for these details which will be sent closer to the date in August 2023.
Orientation is compulsory and it is extremely important to attend. It will help you to familiarise yourself with the layout of the College and will give you an opportunity to meet your new classmates and teachers. Over the course of the morning we will cover some of the following topics:
Well-Being and Student Support Services
Getting to know one another – your course, teachers and classmates
Garda Vetting (where appropriate)
Erasmus + Programme – this includes an opportunity to get involved in an international exchange in another European country
Using information and technology to participate in College
We look forward to you commencing your course with us for the 2023/2024 academic year.